(photo resolution reduced on purpose. This is an english summary of the dutch 'HOKVOL' page and its subpages).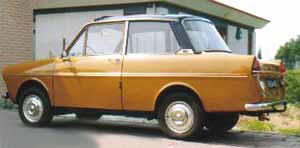 DAF33 LE 1974 since 1983 (my very first car).
I bought it for 300 EURO from the local dealer, it was originally a car for a disabled person, distributed by a state organisation called GAK. Proof of this is an extra accelerator pedal on the left (the original can be folded away). It was rather neglected and therefore already written off before its tenth birthday. Well, i drove it beyond the polar circle (Lappland, Sweden), and to England for the 5th anniversary of the DAF Owner clubs! I won't claim it is a trouble free runner -especially in the last few years it is showing it's mechanical age- but it's amazing that the thing still works after aal those years! Who said something about a write-off? It is my favorite car in the collection because of the sheer ease of driving it, it really feels like a coat you slip in. You just 'think' it around the roundabouts, almost not noticing that you are actually operating a mechanical means of transport. Two fingers and one toe is all you need! Key factor in this is of course the incredible Variomatic stepless transmission that compensates for the measely 32 BHP from the 745cc flat twin engine. Drive the similarly motorized 2CV6 through heavy city traffic and you will soon see the benefits of the CVT system. I can tell, i have both cars! As long as there are spare parts and it is not (yet?) illegal to use private transportation, i will have this 33. If -by some disaster- i would have to sell all but one, this one will stay. Little Daffy 4F4!
NEW may 2017: converted to fully electric drive ''EV33'' : http://gromsound.mfbfreaks.com/33e/33egb.htm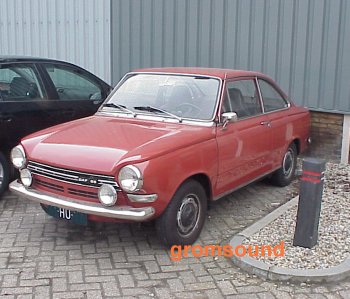 DAF 65 coupé 1976 (de-facelifted 66) since 1987.
Probably the dream of every DAF lover is a coupé. Defenitely the most elegant shape from Michelotti among the ordinary production cars (but have you ever seen the DAF Kini and Shellette beach cars?). Most people -especially outside the DAF club- prefer the 55 over the 66 because of the more classic italian lines, and so do I. But the 66 is clearly more reliable concerning the Variomatic due to the plate clutch, added differential and the sturdy leaf sprung deDion back axle. Also ergonomics are better using a very early example of 'fingertip action' stalks for lights and wipers (on the '75 models that is). Mine was originally a 66SL, i bought it from the original DAF museum near Enschede who had got it from the first lady owner (i know this sounds as the stereotypical salesman story, but i've seen the evidence). It was a MOT failure (dissolved floor and sills) and some recent 'bodywork' using newspapers and a lot of filler hadn't done much good either. I welded everything back in place and got it MOT'd. It served as daily transport for 12 years from then on, alternating it in summer with the 33 and the Citroens. Some years ago i finally had the courage to de-facelift it to the original classic 55 shape (after another DAF club member done so, admitted that publically and wasn't even covered in tar and feathers). It needed 'new' wings anyway, and by a happy coincidence i was offered a scrap 44 for free which speeded things up a bit. Everything is now bolted on (instead of the original spotwelds) so it is not irreversible. Advantage over the 66 nose: better vision on the road in front of you, easier access to the headlights and engine (the whole front is removed quickly, which is especially nice when changing a clutch plate) and although factory information is contrary, i have the impression that drag is reduced. Well, who cares when it looks as good as it does! No false claims though: it is fitted with original style home made 'DAF 65' emblems all around, including the one on the steering wheel centre.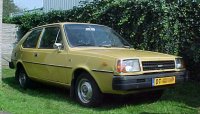 DAF77 ('V343') 1979 since 1999 (the winter car).
What? A DAF?? yeah: concipated by DAF as early as 1970, designed by DAF, constructed by DAF, built by DAF and finally sold by ..... hell, i just can't write it down. It was intended to be the 'big' variomatic DAF 77, to be launched in 1975. But three months before that, the Swedish tank builders took over and 're-engineered' it, mainly to their visual specifications. This means incredibly bulky bumpers (very similar to railroad sleepers), an ugly 'grafted on' grille with diagonal strip and of course the V-badges all around. This is as it came out in early 1976, a hardly camouflaged DAF, with many details still recognisable from the 66 models. Within a year they had had the time to do some more 'improvement': all chrome trim went black, open headrests on the chairs, a 240 inspired dashboard and steering wheel, gone were the hubcaps and the vivid colors of the original etc etc. A year later they even fitted an optional manual 240 gearbox! I remember that i was very angry at the time (just 14 years old), most true Daffers share this experience. A few years ago i took the liberty of giving at least one specimen the name and the credit it deserves. I bought it for only 110 EURO from the scrapyard of an official dealer. After clearing it from 3 years of accumulated green smutt and some small preparation it started and ran like a new DAF (just 64000 km!). No welding, no engine or transmission repairs, only a fresh battery and new wiper blades to get it through the MOT. A great winter car, smooth as a DAF can be, very comfortable with a big heater and good soundproofing. After some home work it looks almost like the final pre-production DAF prototype of 1975 (bumpers and final recessed grille are still to be done). It's a driving tribute to the original DAF technical team headed by mr J. van der Brugghen who realised the ideal daily car so many years ago but never got the credit for it. It is expected within the DAF club that it will become in time an equally beloved car just like the other DAFs. As long as it has a variomatic under the backfloor, it is a respected club car even with the wrong name on it... Rehabilitation for the Big DAF now!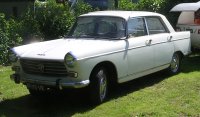 Peugeot 404 1972 since 1997 registred on my name.
My dad bought this one brand new, just before the petrol crisis (bad timing). It was the second 404 we had after two rather disappointing new Fords (a '59 Anglia 105E and a '63 Cortina MK1, pictures can be seen on this page). It served well for 214000 kms up to 1986 when the MOT legislation was introduced in Holland. Then we stored it in a dry place and turned the engine once a year. My dad died suddenly in '97 and i was confronted with two more cars to look after besides my own 4 cars. When i finally sold the J7 camper van (also originally bought new and converted by us in 1976) i had the space to revive the 404. Despite the dry storage it took 8 weeks to repair everything (brakes, cooling system, carburettor, ignition, some welding below) and it passed the first MOT of it's life. In all its simplicity it is a very nice car to drive with much comfort and fine road holding manners. Many 404 owners bought a 504 afterwards but were disappointed by the less robust construction. Not every change is an improvement: you can't suppress 10 grease nipples just because the marketing department thinks they are old-fashioned! I spoke to more than one ex-404 and 504 driver who finally opted for a Mercedes Benz as the only (but pricy) alternative for the 404. What more can i say. Some more pictures of this and the previous 404 on this page (dutch only).
And now, the shed is really full! (well, i just sold two 2CV's so its a bit roomier now)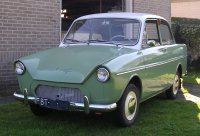 errr... new project for the next 5 years: daf 600 mk1 1960! (ready in 2011)
It is an old DAF dream since i was about 8 years old... the very first production car of our former national pride. A complete hype in feb 1958 following the Amsterdam motor show (RAI). The first fully automatic small economy car with revolutionary stepless V-belt transmission the Variomatic. And such a clean aircraftinspired styling. Pure technical history, an automotive landmark like the Citroen DS19 and NSU RO80 although not as widely recognised. I had to wait over 40 years before i could fulfil this dream, and after spending 5 years of work and 3.3kEU on parts it was in running condition again. The restoration is shown on the dutch pages (5 of them!). It is rather useless in modern traffic since it tops just 75 kmh, but what a feeling to drive it. Everything that makes a Daf so special is already present in this first attempt. A self-propelled museum piece of national importance. Yes i am very happy!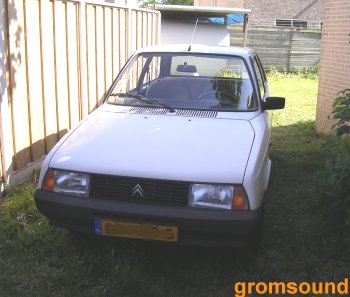 Next!! (jun 2015 onward)
One more forgotten orphan car, the Romanian built Citroen Axel. In fact this is the very last pure Citroen, ready for production in 1974 before they were forced by Peugeot to use their mechanics (first horrible result: the LNA, second one the VISA). So it was shelved but got another chance in 1982 when it was recycled for the joint venture ''Oltcit''. A small number of them was sold as AXEL in western europe but they were so badly built that this adventure was quickly abandoned leaving only a few survivors by now (about 5 in NL). I will first restore it as it is, then change the engine to the originally envisaged 2cyl 650 cc one (from the Visa), and finally i will attempt to change the dash and body into the 1974 prototype shape. Nice three stage project for some years, progress is logged on the dutch page.
---
So you see, i'm not a one-make diehard . Although my preference will always be the DAF (sorry Francophiles).
More about DAFs: Daf Club NL, English on DAF Owners Club GB
More about 404's: Peugeot 404 vereniging NL
Visaclub Axel page: www.citroenvisaclub.nl/historie_axel.htm
That's enough for now, back to the index
photo's: © AvW, 1996-2017